#1 For Change Auditing
Simple, Efficient, Affordable – that's NetWrix's stance, and that's what makes NetWrix #1. With the broadest platform coverage availability in the entire industry, no other vendor focuses more extensively on IT infrastructure change auditing.

NetWrix award-winning change auditing solutions support different types of IT systems, devices and applications, including Active Directory, Group Policy, Exchange, file servers, storage appliances (e.g. EMC and NetApp), virtual machine environments (VMware and System Center VMM), Windows Server, network devices (e.g. Cisco and CheckPoint), SQL Server, SharePoint, and others and help to adhere to increasing security and compliance demands.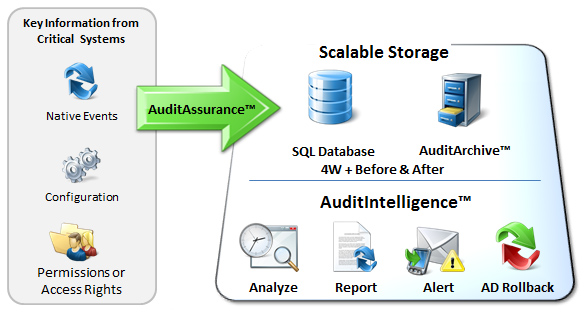 ---
NetWrix Change Reporter Suite
This automates and simplifies the auditing of critical IT systems across the entire IT infrastructure. No matter who changed what and where — be it Active Directory, file servers, Microsoft Exchange, filer appliances such as NetApp or EMC, virtual infrastructure, SQL Server databases — everything is centrally audited, consolidated, and presented in easy to understand reports, scheduled for ongoing review and forensic auditing of day-to-day administrative activities by your security team and periodic inspections by compliance auditors. The product streamlines compliance to HIPAA, SOX, PCI, GLBA, FISMA and many other regulations, provides an easy-to-use solution that drastically improves IT infrastructure visibility and internal security.
---
NetWrix User Activity Video Reporter
Complete visibility over critical IT systems can be difficult, inefficient and expensive. Critical systems require administrators to utilize extensive permissions allowing them to circumvent any change and configuration auditing. Additionally, many critical applications do not create event logs or the logs they do create are not easily accessible by an auditing solution.
NetWrix User Activity Video Reporter records dynamic screen activity, providing essential auditing visibility to critical applications that are not accessible through traditional event-log-based auditing solutions.
Key Benefits:
NetWrix User Activity Video Reporter acts like a surveillance camera for your servers, recording all user activity for later review.
Track activities with critical applications that do not produce event logs using our powerful server auditing tool.
Audit remote access of privileged users: record and monitor Citrix and RDP sessions.
NetWrix VideoScape™ playback technology lets you jump to a specific activity and watch the actual actions performed as if you were there directly viewing the user's screen at the time the action took place. See what your IT administrators saw, on screen, at the specific time a critical change was performed.
NetWrix VideoScape™ technology captures the specific start and stop point of critical activities, organizes the videos in a way that is easy to use, locate and review.
Monitoring is application-specific and can be activated (or left inactive) depending on functions that need to be monitored.
Monitoring is also user-specific, especially useful for tracking administrators as well as third-party users such as vendors and contractors.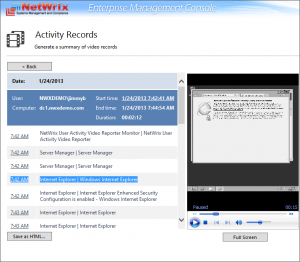 ---
NetWrix Identity Management Suite
Without automated solutions identity management can be a tedious and resource-consuming task. Proper implementation of manual processes can be error-prone and very resource intensive, leaving no time and resources for other important IT projects. Identity management automation brings convenience, enhanced security, and sensible benefits to everyone in an organization.
NetWrix provides proven identity management solutions to help organizations solve their most pressing password management and identity lifecycle management issues. NetWrix solutions are recognized by thousands of customers worldwide, including Fortune 500 companies in all major industry verticals.